BDSM Sex Toys
Thinking of buying crazy BDSM toys for some kinky fun or as a gift?
As a first-time shopper, it can be awkward asking someone advice about the best gear. We completely understand and you are not alone. There are hundreds of toys out there. They include restraints, gags, floggers, whips, paddles, latex dresses, and harnesses.
You also have hoods, masks, nipple clamps, cock cages and more. Each BDSM toy has a special use. To fulfill your Fifty Shades play fantasies, you need the right gear.
Lucky for you, we've prepared this guide. In our post, we review the top choices on the market.
The best toys are a great addition to your sex dungeon. They offer a whole lot of possibilities. With the right BDSM gear, you can experience incredible orgasms while fulfilling your sexual fantasies.
Here are the top BDSM Toys Review
Breathable Silicone Ball Gag
With the Breathable Silicone Ball Gag, you can control how and when your subject speaks. Made of a medical-grade silicone ball, its breathable and has luxurious brown leather for a secure fit.
The silicone ball will not hurt your teeth. As such, the subject can bite down on the ball. Since the ball is silicone-based, its body safe and will not degrade while in the mouth. It's also phthalate-free.
It has silicone extensions on the side making it a delight to wear. There are three holes at the center of the ball. This increases the subject's comfort level as she can breathe through the mouth.
To complete the look, you have Rosy bronze hardware – buckle, D-rings and buttons. For a secure fit, adjust the strap to any size of your choice.
The ball measures 1.69 inches while the straps measure 19 inches to 25 inches. Although the silicone ball has three holes for breathing, it's important to be safe.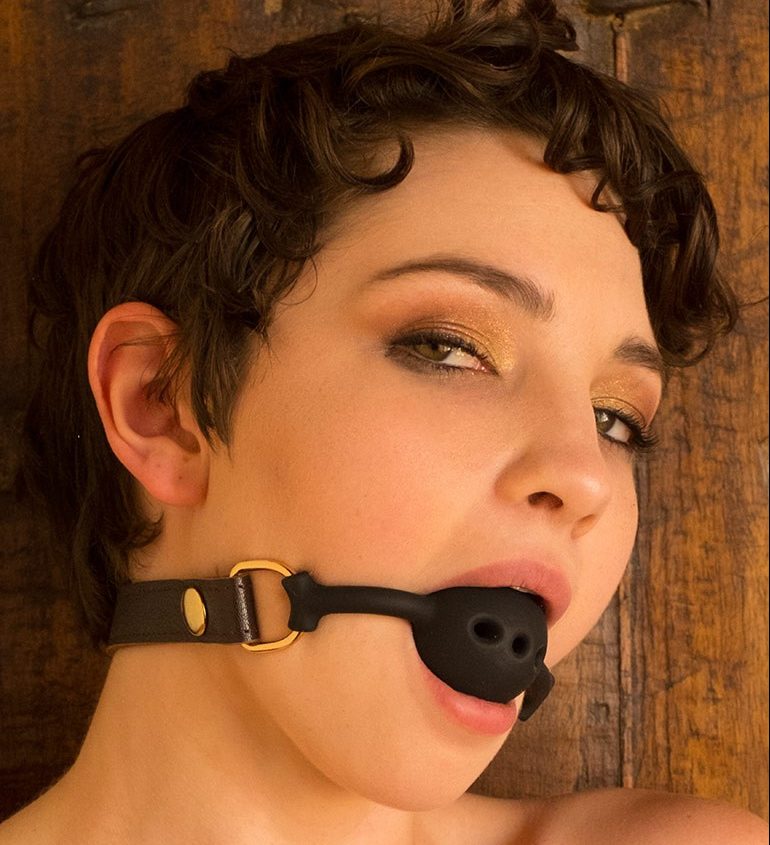 The subject will be unable to speak a safe word since the ball will cover the mouth. Instead of speaking a safe word, have the subject make a safe signal. You can either choose a bell or taps.
Things we liked
• Comes with three holes allowing the subject to breathe via the mouth
• Made of medical-grade silicone
• Does not chafe the corners of your mouth
• Strap is adjustable for a secure fit
• Will not hurt your teeth
Things we don't like
• Subject will end up drooling via the holes
Want to satisfy your desire to conquer? If so, the Leather Arm Binder is a great choice for you. Made of soft, stitched leather, the material is non-irritating and skin-friendly. As such, it will not cause any skin irritation.
Y shaped, the Leather Arm Binder comes with a lock to bind the arms and shoulders. You can adjust the tightness according to your desire. To do so, adjust the zipper accordingly. Made of latigo leather, the adjusting buckling straps are strong.
Latigo leather refers to cowhide that is chrome tanned then vegetable tanned. Before the latest combination tanning technique, Latigo leather was typically tanned with gambier and alum. It's also infused with oils and waxes. This makes the leather waterproof and strong.
At the end of the Arm Binder, you have a D ring. This acts as a point of attachment while you act your fantasy. You can attach other toys and make your bondage scenes exciting.
What you ought to know is that the armbinder fits smaller framed persons. For broader framed persons especially men, the armbinder will not fit. Simply put, if you are 5 ft 6 inches and over, the armbinder will not fit.
Things we liked
• Made of soft stitched leather
• Has strong buckling straps for adjustments
• Versatile and restrictive
• Subject perfectly plays the role you want
• Available in black and red
Things we don't like
• Expensive compared to other similar products• Cannot fit broad-shouldered persons
Brown Leather Collar & Leash
Transform your plain old sex into something extraordinary with the Brown Leather Collar & Leash. Designed to make a memorable entrance in your sex dungeon, it has a bright gold finish. The bright gold finish is on the following hardware – D rings, studs, and chains.
The collar is leather-based. Made of luxurious chocolate brown leather, the collar does not irritate the skin. The chain is gold with a leather handle. Beautiful and stylish, it allows you to lead your subject for an erotic journey.
The chain has a length of 40 inches while the handle has a length of 5.5 inches. In loving hands, the Brown Leather Collar & Leash makes sex more dramatic and less predictable. Before buying, make sure you know your subject's neck size.
Although the collar is adjustable, you want to ensure it fits snugly and comfortably without causing any irritation. When it comes to cleaning, you have